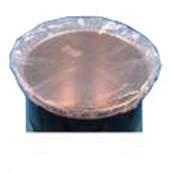 Plastic Cap Cover
SKU S5
Price $1.99

The Polyethylene Cover fits 5 gallon buckets and is made from clear 4 mil FDA-Compliant LDPE, with 3/8" wide elastic band.
A low cost protection from dirt, dust and moisture. Prevents contamination and evaporation.
Heavy-duty elastic hem is securely lock-sewn which will keep cover in place yet allows easy removal when needed.
This cover is strictly to be used for covering the drum when not being used; will not hold up to heat.