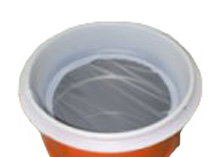 Drum Top Strainer
SKU 55HD
Price $19.99

Made to fit on top of an open head metal 55 gallon drum, these strainers are an excellent way to strain contaminants out of your WVO.
They are made from FDA-approved High Molecular Weight High Density Polyethylene with an average wall thickness of 28 mil which will handle up to 180 degrees F.
The patented lip design ensure the strainer will stay in place while filtering your WVO thru the mesh.
Dimensions: Inner Diameter 22.375", Outer Diameter 23.50", Height/Depth 6".
Best of all the strainers are re-usable.
100M-Ultra Fine Mesh
200M-Fine Mesh
400M-Medium Mesh
600M-Coarse Mesh