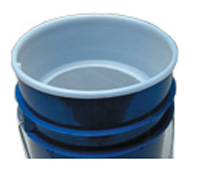 Bucket Top Strainer
SKU 5HD
Price $8.99

Revolutionary way of straining into a pail. The strainers can be re-used, they drop easily on top of container and always stays in place and cannot drop inside. Strainer lies on top of any open-head pail, allowing valuable material to be poured through easily while removing unwanted particles.
Features include: Fits any 5-gallon pail, patented lip design ensures that the strainer always stays in place, durable, nylon mesh available in several mesh sizes. Ideal for removing debris from any liquid product that needs to be particle free. Can handle up to 180F.
Dimensions are: Inner diameter-10.675",Outer diameter-11.75", with a height/depth of 4".
Best of all these strainers are re-usable.
100M-Ultra Fine Mesh
200M-Fine Mesh
400M-Medium Mesh
600M-Coarse Mesh