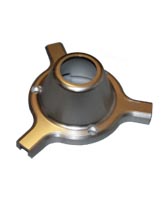 Raw Centrifuge Cleaning Booster
SKU Raw-CCB
Price $100.00
Please call for lead time

Designed for the Raw Basic & Extreme Centrifuges to increase efficiency and allow for the ultimate cleaning performance. This booster maintains an easy and quick cleaning ability of the open bowl design.
The oil starts spinning prior to entering the centrifuge bowl which will reduce the turbulence in the bowl. Also, the booster feeds the incoming/dirty oil into the bottom of the centrifuge bowl, forcing the dirty oil to have to work it's way through the entire batch of existing oil in the bowl.
Bolts on to rotor with no modifications and does not need to be removed when cleaning the bowl. Requires feed through center port.