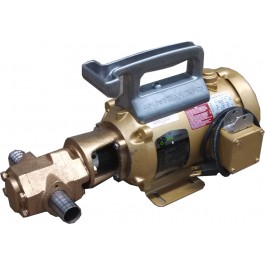 12gpm Raw Transfer Pump
SKU Raw-TP-12
Price $865.00
Having troubles pumping cold, creamy waste oil?
This pump is the answer to your troubles and can handle creamy vegetable, motor or other waste oils.
A custom built motor that is thermally protected and a close-coupled rotary gear, cast iron pump.
Can use a 12v battery with a 5000w inverter.
12gpm pump-Heavy Duty, works great with thick oils.
*3/4HP
*1" threaded ports, 1.25" hose barb
*Self-priming
*Weight-45lbs.
*Suction Height-15'
*Push Lift Height-90'
*Temperature Rating of 0-400F
*Viton Seals
*Duty Cycle-Continuous
*5 year warranty
*B100 Compatible
*Reversible
*Volts-120 or 220 (comes prewired for 120)
*Amps-8.7 at 120 4.4 @220 volts