Fuel Transfer Pump w/ Bypass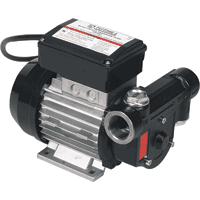 GP24925

The Tuthill diesel fuel transfer pump delivers diesel fuel or light oils at up to 22 GPM. Can be effectively used with WVO.

This cast iron rotary pump is equipped with a bypass valve system that won't let the motor overheat and has a 5' power cord.

Self Priming
120 Volt
Inlet and Outlet Ports of 1"
3360 RPM's
7.2 Amps
540 Watts
0.7 HP
Maximum suction lift of 8.5'
Maximum Total Head 65'
Duty cycle of 30 minutes
11.3"x9"x9.3"