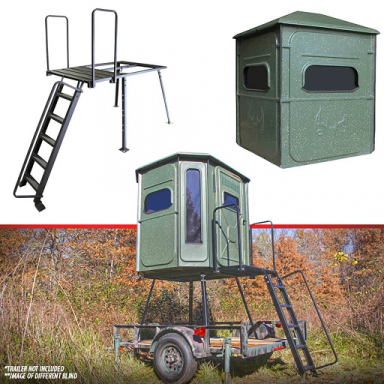 Trailer Blind Stand
SKU RD-STDTRL
$849.99
$749.99 On Sale!
$
Features of Stand:
Made from 3/16" powder coated bent steel to resist rusting

Universal size to fit any Redneck Blind

Steps and platform feature non-slip punch plate design

Hand rail on ladder for safety

Upper platform with rail to ensure safe entry & exit

All parts are drilled for precise fit

One size nut and bolt for all fittings makes for easy assembly

Black zinc hardware resists rusting

Stand Height: 4ft

Ladder Height: 5ft

Stand Weight: 196 lbs.

Stand Foot Print: 5'x5' square
*Trailer is not included with the Stand.
*This Stand can be used with any utility trailer that is 5' in width, or wider.
*Stand will sit approximately 5' off the ground on trailer with 12" tires.
Shipping Details
Call to arrange pick up