Calibrated Pressure Relief Valve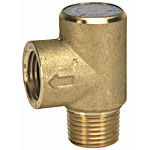 53C
This Calibrated Pressure Relief Valve can be used to protect against excessive pressure in systems containing water, oil, or air.
The valve consists of a brass body construction with MPT inlet and FPT (drain) outlet connections and stainless steel spring.
Valve has a rating of 75-150 PSI.
Preset at 75 psi.
To adjust valve turn the Phillips head screw one turn clockwise to raise the pressure setting 25 psi.