Cuddelink Long Range Bundle IR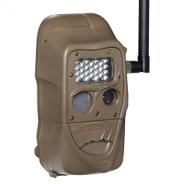 CB-11438
These cameras have IR illumination for optimum range and performance!
Featuring an industry leading ¼ second trigger speed that captures the deer that so many other cameras would miss. Add Super-Fast Recovery Speed that is ready for the next picture within 1 second of taking the first, and the result is Cuddeback can capture 2 photos before many cameras can capture the first.
And the pictures are incredible. 20MP images with stunning daylight color and black/white night images.
On top of the performance, we added a ton of cool and innovative features, such as separate day/night delays, fully customizable time lapse and much more.
CuddeLink Long Range IR- the ultimate in versatility and performance!
*Free Shipping
*10 day lead time
*Megapixels: 20
*Trigger Speed: 1/4 second
*LED's: 24.85nm
*Flash Type: Low glow IR
*Flash Range: 100 feet
*Battery Type: 12xAA
*Premium grade image sensor
*Compatible with all Cuddelink cameras
*4 pack of J-1415 cameras for price of 3