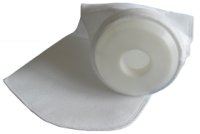 Bag Filter Adapter Head
SKU FB-AH
Price $19.99
Items that go with this product

Create a filtration system anywhere with these threaded adapter heads.
Adapter heads thread directly to 2" pipe.
The filter bag retaining ring fits over the raised lip on the adapter head to hold the filter bag in place.
For use with 7"x16" or 7"x32" filter bags that have a steel ring at the top.
Items that go with this product

7x16 Polyester Filter Bag w/Handle
SKU PE1P5
Price $4.99

7x32 Polyester Filter Bag w/Handle
SKU PE2P1
Price $9.99