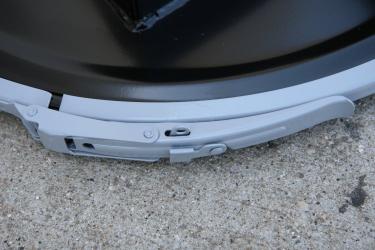 55g Outside Locking Ring
SKU 55-LID-OSL
| | | | |
| --- | --- | --- | --- |
| Quantity | 1 - 20 | 21 - 51 | 52+ |
| Price | $14.99 | $12.99 | $9.99 |

This 16 gauge lockable outside lever lock drum band is a simple solution to keeping your drum lids in place. The over-center latch is easy to close and has a tab that hinges through the latch to prevent the latch from opening.
The locking tab has a small hole for a padlock to deter opening by others. If you are looking for a drum band that is easy to open and close without the need for tools, this is the answer.
Will have to provide your own small padlock. Standard size padlocks will not work.