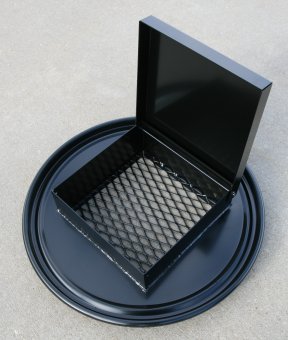 55g Drum Expanded Steel Collection Lid
SKU CL-55SX
Price $119.99
This Drum Collection Lid fits a standard 23 5/8" outside diameter steel drum and designed to keep weather and thieves away from the contents of your drum. The 16 gauge drum lid has a 14 gauge welded metal collection box; OD 12" x 12" x 3.25" deep which provides plenty of room to easily pour into. An expanded steel mesh is welded in the bottom of the collection box.
The diamond shaped openings (3/4" wide x 1 1/2" long) are large enough for easy pouring without splashing or clogging yet small enough to filter out larger objects and deter theft.
The diamond mesh sits approximately 1 3/8" below the top of the drum to prevent overfilling.
The lid is designed to stay open while pouring but a slight breeze can close the lid if accidentally left open.
The collection lid is powder coated black for durability. We can powder coat in any color needed; please call for lead time & pricing.
7 Lids or more will be sent on a pallet. Additional charges will incur if you require a liftgate and/or a residential delivery. Please call for a quote.
We offer discount pricing for Lids sold by the pallet. (52 lids to a pallet) Give us a call for pricing and freight charges.
Drum Specifications
Lid 16 gauge
Collection Box 14 gauge
Box OD 12"x12"x3.25"
Mesh 11 gauge Expanded Steel
Mesh Style ¾"x 1 ½" Diamond Shaped Holes
Weight 22 lbs.
Drum requirements 23 5/8" OD steel drum
Ring Options:
Outside Locking Ring
16g ring with over-center latch which is easy to close and has a tab that hinges and prevents latch from opening. A small padlock can be attached to the locking tab.
Bolt Ring & 5/8" Bolt
12 gauge ring

Security Bolt Ring
This Ring utilizes a hardened stainless steel security bolt with a unique key pattern, Guard/Retainer Spring and welded Thread Shield. No longer do you have to worry about someone cutting your padlock, gluing the tumblers or multiple keys.
The 5/8" hardened stainless steel security bolt has button head with a center pin to make it truly tamper proof. The Guard/Retainer Spring prevents the bolt from falling out when the ring is off.
The best advantage of the guard/retainer spring is that it prevents a-would be thief from being able to access the bolt between the lugs of the ring. If a thief tries to use channel locks or a pipe wrench to turn the bolt the spring simply spins on the bolt.
A welded thread shield covers the exposed threads to prevent tampering with the end of the bolt.
Security Bolt Keys for these rings are sold separately.