55g Drum Expanded Steel Collection Lid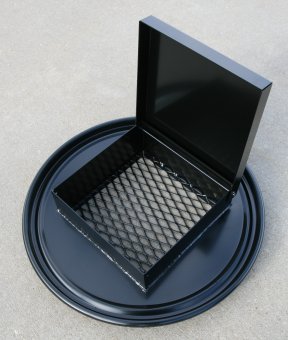 CL-55SX
Lid comes standard with Outside Lever Lock Band
This Drum Collection Lid fits a standard 23 5/8" outside diameter steel drum and designed to keep weather and thieves away from the contents of your drum. The 16 gauge drum lid has a 14 gauge metal collection box measuring 12" x 12" x 5" deep which provides plenty of room to easily pour into. An expanded steel mesh is welded in the bottom of the collection box.
The diamond shaped openings (3/4" wide x 1 1/2" long) are large enough for easy pouring without splashing or clogging yet small enough to filter out larger objects and deter theft.
The diamond mesh sits approximately 1 3/8" below the top of the drum to prevent overfilling.
The lid is designed to stay open while pouring but a slight breeze can close the lid if accidentally left open.
The collection lid is powder coated black for durability. We can powder coat in any color needed; please call for lead time & pricing.
Comes standard with an Outside Lever Lock Band or upgrade to our Security Bolt Band for better security.
Please see below for further information about the bands.
Please call for Quantity pricing & shipping for multiple collection lids. Shipping time on large orders may require a lead time. We also offer discount pricing for lids sold by the pallet. (52 lids to a pallet)
Drum Specifications
Lid 16 gauge
Collection Box 14 gauge
Box dimensions 12"x12"x5"
Mesh ¾" Expanded Steel
Mesh Style ¾"x 1 ½" Diamond Shaped Holes
Weight 22 lbs
Drum requirements 23 5/8" OD steel drum
Outside Lever Lock Band (standard)
The 18 gauge lockable outside lever lock drum band is a simple solution to keeping your drum lids in place. The over-center latch is easy to close and has a tab that hinges through the latch to prevent the latch from opening.
The locking tab has a small hole for a padlock to deter opening by others.
Will have to provide your own small padlock.
Security Bolt Band (optional upgrade)
The Security Bolt Band utilizes a hardened stainless steel security bolt with a unique key pattern, Guard/Retainer Spring and welded Thread Shield. No longer do you have to worry about someone cutting your padlock, gluing the tumblers or multiple keys.
The 5/8" hardened stainless steel security bolt has button head with a center pin to make it truly tamper proof. The Guard/Retainer Spring prevents the bolt from falling out when the band is off.
The best advantage of the guard/retainer spring is that it prevents a-would be thief from being able to access the bolt between the lugs of the ring. If a thief tries to use channel locks or a pipe wrench to turn the bolt the spring simply spins on the bolt.
A welded thread shield covers the exposed threads to prevent tampering with the end of the bolt.
Security Bolt Keys for these bands are sold separately.