Centrifuge for Engines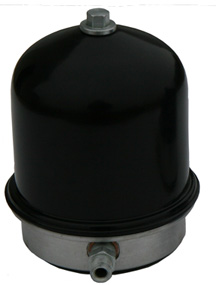 FT25
Centrifuges are now white in color
The centrifuge spins from the pressure of your engine and removes contaminates as small as 1 micron. Forcing the solids to the inside of the rotor; allowing for an easy clean.
Our centrifuge allows extends the life of your engine oil and eliminates the need to continually buy replacement filters.
This centrifuge is equipped with a pressure valve that ensures development of at least 20 psi when used in an engine.
The centrifuge is designed to be mounted above the oil sump and gravity drained from the centrifuge. To mount on the firewall and drain back to the sump you will need a 1 1/2" galvanized floor flange to convert to pipe thread and a mounting bracket.
Mounting brackets for sale on the web site. The floor flange will bolt directly to the bottom of the centrifuge.
Pipe per your application to gravity drain to the engine oil sump.
Inlet port: 1/4" FNPT inlet port
Dimensions: 5" in diameter and 6 ½" tall
Warranty: 5 years against manufacturer defects