Centrifuge for Engines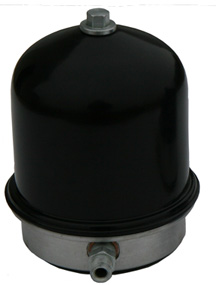 FT25
Centrifuges are now white in color
The centrifuge spins from the pressure of your engine and removes contaminates as small as 1 micron. Forcing the solids to the inside of the rotor; allowing for an easy clean.
Our centrifuge allows extends the life of your engine oil and eliminates the need to continually buy replacement filters.
This centrifuge is equipped with a pressure valve that ensures development of at least 20 psi when used in an engine.
Inlet port: 1/4" FNPT inlet port
Dimensions: 5" in diameter and 6 ½" tall
Warranty: 5 years against manufacturer defects