Technol 050 Cold Flow Improver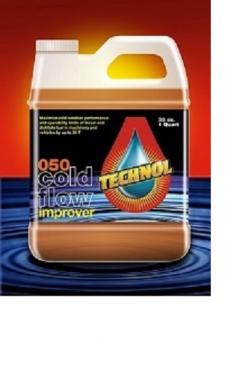 T-050
Can only ship within the Continental USA
Technol 050 is a highly concentrated, unique severe cold climate distillate Cold Flow Improver. Cold Filter Plug Point (CFPP) is lowered by up to 30°F, and the fuel's established Pour Point by up to 50°F. Technol 050 when used proactively, before the onset of cold weather at the ratio of 1:2,000 will keep fuel flowing by preventing the formation of gelled fuel and ice blockages.
If you are presently experiencing these blockages apply Technol 050 at the ratio of 1:200 to melt gelled fuel and ice, once melted Technol 050 will act as an "anti-freeze" preventing both the fuel and water from re-gelling and re-freezing. Be sure to protect your fuel and fuel system every time it is refueled by applying Technol 050 until warm temperatures arrive. Antigel agents permit fuel to flow smoothly even under the most extreme cold climate conditions. Anti-gel agents (Cold Flow Improvers) are wax crystal modifiers that limit the size and modify the shape of wax crystals formed at temperatures far below the cloud point.
Technol 050 should be applied directly to bulk storage or fuel tanks before the onset of cold weather. It is recommended to apply before refueling to ensure proper mixing and distribution.
Can be used with all distillate fuels.
Available sizes: There is an additional shipping charge for 5g pails & 54g drums. Please call for pricing & freight.
32oz. bottles
5 gallon pails
54 gallon drums
Initial Application:
32oz for up to 250 gallons
1 gallon for every 1,000 gallons of fuel
Maintenance Application:
16oz for up to 250 gallons
1 gallon for every 2,000 gallons of fuel