Small Silicone Rubber Filter Heater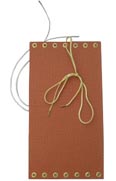 SRH-S

A wire wound silicone rubber filter heater that will keep your filter warm in cold weather and ensure proper flow.
Heating area is 3" high x 9.5" long.

Specs
12vdc
100 watts
8.3 amps
14 gauge leads
grommets and lacing

Will fit filters with diameters between 3" to 4" and circumference of 9.5" to 12.5".

Can be wired 2 ways:
1. With a toggle switch; you control when the heater is used
2. Thru the fuse box; only hot when ignition is on.