Vegtherm Standard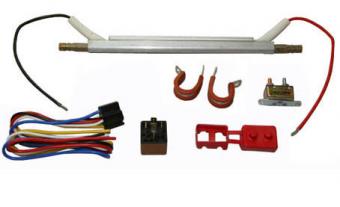 VegSt
Vegtherm Standard 20A @12V, with 40A circuit breaker, 40A Genuine Bosch relay, wiring pigtail, instructions, bumper sticker. Additional wiring and common connectors to be supplied by purchaser.
Overall length is 9".
The Vegtherm has been a very popular item for heating vegetable oil and biodiesel. This model is used for all smaller engines; those that get approx. 25 mpg or more.
The Vegtherm gets very hot, very quickly and is fully hot in about 40 seconds at zero flow rate. Therefore, it can be installed to switch to SVO at the same time SVO is selected; in fact, the same "trigger" that switches a valve to SVO can turn on the Vegtherm.
It allows for switching over to SVO fuel from diesel or biodiesel more quickly than if using engine coolant alone as the heat source for SVO (if using a two-tank system). We switch over when coolant is around 100-140F.
The Vegtherm consistently delivers substantially higher SVO temperatures and is often added to coolant-only SVO systems to improve their overall performance. Sized to heat room-temperature oil to approx. 158-176F at typical fuel flow rates of the engines and miles per gallon mentioned, at cruising speed with a looped return.
Uses solid state, advanced heating technology with inherent self-limiting function.
Alternator and belt must be in good condition. If the alternator, belt and battery are in good shape, and the unit is used as directed, the Vegtherm can run all the time, and not cause a problem for an alternator at all. We recommend that the rated output be at least double that of the Vegtherm.
Not recommended for straight Diesel fuel; the heat from the Vegtherm will degrade the lubricating qualities of diesel.