Melt Down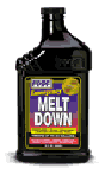 MD-32
Can only ship within the Continental USA


Meltdown is a highly effective formula specifically formulated to provide significant performance benefits in all diesel fuels, including ultra low sulfur diesel and bio-diesel fuel blends.

This additive is specifically formulated to dissolve gelled fuel back into solution and return the flow in approximately 20 minutes. It will not harm fuel pumps, nozzles, or any pre-combustion components.

Meltdown is an emergency fuel treatment only. For preventative maintenance in applications using diesel fuel use either Total Power or Polar Power. For applications involving Home Heating Oil, Heating Oil, use HOT 4 In 1.

1oz. will treat 1.57 gallons.
32oz. bottle will treat 50 gallons.