Fuel Transfer Hose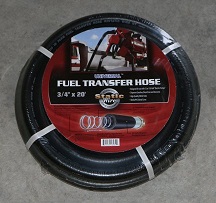 FH-3/4

Fuel Hose, 3/4" NPT Inlet & Outlet, Dia 3/4", Length 20'.

Material Nitrile, Max Pressure 60 PSI, Temperature rated -20 to 160 degrees F.

Equipped with static wire inside to transfer any static buildup from the nozzle to the pump ground.

Hose is a blend of PVC and nitrile for protection against cuts, abrasions, and punctures.

Works well with WVO and stays flexible.