Drum Foil Insulation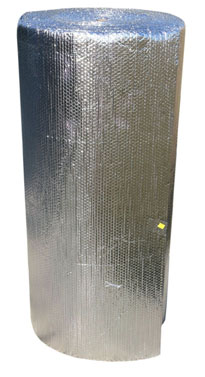 DFI

This 5/32" closed cell insulation has a double layer of barrier bubble film laminated between two layers of metalized film.
Insulating your drums will drastically lower the time needed to bring your drums to the desired temperature and lower your overall heating costs. It can also be used to insulate your wvo fuel tank or fuel lines as long it does not come in contact with any surface over 180F degrees. The insulation comes in two sizes to fit a 55 gallon drum (24x72) and 110 gallon drum (48x96). Not all drums are exactly the same size. Some cutting may be needed to prevent the insulation from covering your drum heater.
We offer Brisk band heaters at a special price when purchased with the Insulation.
Contact Temperature Range: -60 degrees F to 180 degrees F.
Flame Spread: 0 ASTM E84-08
Smoke Development: 40 ASTM E84-08
Fire Rating: Class A/Class 1
Pliability: No cracking
Linear Shrinking: None
Mold and Mildew: No growth
Do not cover the band heater as there is potential for the heater to burn out.