BT 260 Series-Microglass/10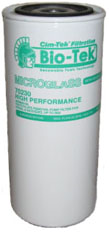 BT-260BMG-10

Spin on Particulate Removal Filter for Biodiesel with a 10 micron High Performance Microglass Media.

25 gpm maximum flow with a Pre-Lubed Gasket. 50 PSI maximum working pressure. 1"-12 UNF Thread.

For use with low-volume commercial power pumps, commercial fueling dispensers and most agricultural pumps. Works well with Bio Pro Processors. Filter is specifically designed for renewable fuel filtration.

Ethanol-blended gasoline up to E15, biodiesel blends up to B100 and ultra-low sulfur diesel (ULSD).

Filters should be changed every 6 months or when the DP reaches 20 lbs, whichever comes first.

This filter will extend the life of engine fuel filters and injectors and is 9" in length.