In-Line Fuel Warmer 3/8-1/2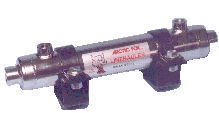 AF-703B

In-Line Fuel Heaters obtain the added heat you need for your WVO and SVO applications.

These stainless steel heaters are maintenance free with no moving parts and are very easy to install.

Simply route your fuel and coolant lines to the appropriate connections and let the heating begin. Heat is exchanged inside through a series of stainless steel tubes to provide efficient fuel warming.

With a flow rate from .1gpm to 1.5gpm now you can easily add approximately 80-100ºF to your wvo/svo in-line.

Includes mounting brackets.

3/8" NPT Fuel & 1/2" Coolant Port size.