20g Salvage Drum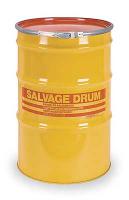 SK-20G

This 20 gallon Carbon Steel Salvage Drum can be used to store waste vegetable oil in at home or at a restaurant. Equipped with an outside Lever-lock Ring and a mild rust inhibitor.

Also can be used in Packing Groups I, II, and III of Hazardous Materials. UN Certification 1A2/X120/S and complies with DOT 49 CFR 173.3 for safe containment.

Inside Diameter of 18¼ " and 19 ¼ " OD. Drum is 21½" tall and 1.2mm thick top & bottom and .9 thick body. Load capacity of 385lb. EPDM Gasket.