1gpm Centrifuge Hose Set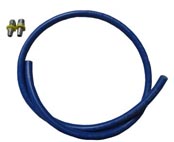 HPH-244

This hose set is for the GreenSpin 1gpm and and any other 55/60gph Centrifuges.

Works well with the 1/2HP Gear Pump and Motor.

The 1/2" ID Hydraulic Hose is 5' in length and has two 1/4" MPT fittings. The hose & fittings are unassembled which allows you to custom fit to your application.

No hose clamps are needed and once the fittings are inserted into the hose, they are not removable.

Hose is rated for 400 lbs and 212°F.