Brisk 1500w Band Heater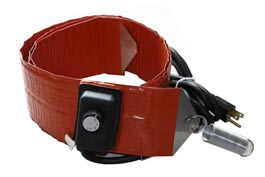 BH-55-1500

Heavy-Duty Band Heater: 120vac, 12.5 amps, 1500 watt, 4" flexible silicone that fits metal 55 gallon drums. This is just what you need to keep your wvo at the optimum temperature for the most efficient filtering.
The patented-grounded heating element is laminated between two layers of 20 mil fiberglass reinforced silicone rubber with a density of 16.8 oz/yd2 per layer.
Features include a 50-425 degree adjustable thermostat, 70" in length with a 6ft cord, spring closure and are moisture/chemical resistant.
~Please position the heater so that the cord is facing down.
~We do not recommend using an extension cord with the band heaters.
~A steel drum is required for the use of this band heater.
~1 year warranty against manufacturer's defects.