Centrifuge Filtration Unit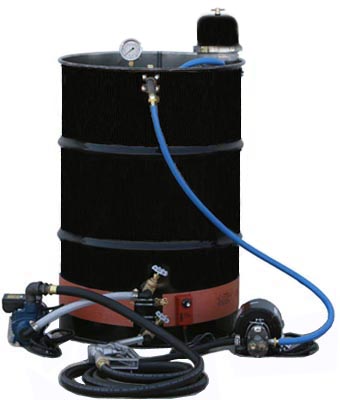 F2F-KIT

The "F2F WVO Centrifuge Unit" will clean your WVO more effectively than any other system! This unit has the ability to polish your WVO to less than 1 micron.

To start the process you simply settle, filter or strain your oil to remove the larger particles. The unit will remove small amounts of evaporated water via the temperature of the tank and from the WVO being sprayed out of the centrifuge. Heat the oil to ~160 -180ºF with the 1500 watt Brisk heater and let the centrifuge do the rest. There are no parts to replace when the centrifuge is full, merely take it apart, clean it and you are back in business. A magnetic surface mount thermometer gives positive indication of temperature from 0-250 degrees F. The gear pump delivers the WVO to the centrifuge at 90psi for optimum performance. The excess flow is then routed back to the drum to stir the WVO which ensures the oil is as clean as possible. The centrifuge gear pump & motor pulls from the bottom of the barrel to ensure that all the oil cycles through the centrifuge.

After you have finished polishing the oil to your satisfaction; use the transfer pump and 20' hose and nozzle to pump your pristine oil from the drum. The transfer pump takes the oil from the gate valve directly above the bottom valve, ensuring that you are receiving the cleanest WVO possible.

This package includes: 55gal drum with welded fittings, GSP1 Centrifuge with mount, gear pump with hydraulic hoses rated to 400psi, Brisk 1500 watt drum heater, one magnetic surface mount thermometer, liquid filled stainless steel pressure gauge, 12gpm transfer pump, pressure relief valve, 20' fuel hose, fuel nozzle, 1 8' power cords w/switch, 2.5' of braided hose and all necessary fittings to assemble the system. A lid will come with the drum.

Our units are equipped with an "open top" design for drying of the oil. This allows for water and moisture to evaporate during the heating and centrifuge process. If the lid is on during the process the moisture has no where to escape and will fall back into your oil.

Also included are assembly and processing instructions. For detailed information on a particular item, see that items description. The gear pump comes with a wiring junction box mounted on motor ready for your wiring installation.

If you have been looking for a centrifuge system that is proven to work without spending thousands of dollars, you need look no further.

Assembly directions will be sent via email.