BioPro INCOSEP 380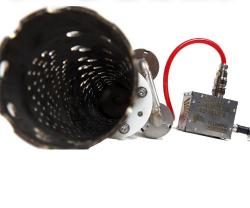 BP-INC380
Contact us for pricing and freight to your location
The INCOSEP & INCOSEP-Pro are biodiesel processing accelerators for the BioPro 380. By incorporating its proprietary and patent-pending fluid separation process into its product line, this technology will allow our customers the ability to reduce processing time by half for every BioPro 380 sold after January 1, 2007.
These accelerators will simplify and accelerate the biodiesel production!
The INCOSEP-Pro enables rapid settling of bulk glycerin and quickly separates wash water from biodiesel while preventing emulsions. The INCOSEP Pro is able to accelerate the esterification, transesterification and glycerin to 8 hours. It will also reduce the washing & drying process to 12 hours. Additionally, because of the Pro's effectiveness in preventing emulsions, all three washes are now turbulent washes, in which the fuel is stirred into a homogenous mixture with the wash water before the water is quickly settled out and removed.
You will have to install it yourself. This is easy to do; It comes with all the fittings, brackets and mounting hardware required. We send a detailed set of instructions on how to install it and an upgraded PLC. The module needs about 2 hours to install. No added chemicals or manual interaction needed– just INCOSEP technology!
The 380 INCOSEP PRO connects to your BioPro's onboard Computer, called a PLC unit. For the INCOSEP to work properly, you will need to install a reprogrammed PLC.
1 year Warranty.
~48 hours BioPro 380 without INCOSEP
~20 hours BioPro 380 with INCOSEP PRO
~11 hours BioPro 380 with INCOSEP & SpringPro T76