Base Filtration Unit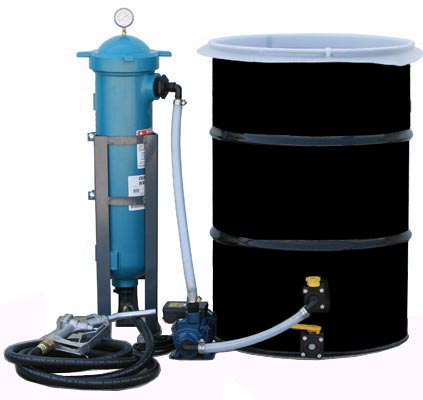 F2F-BN

The "F2F Base Filtration Unit" makes filtering your WVO clean and easy. Gone are the days of the mess and inconvenience of pouring your WVO thru bag filters or strainers. Now simply pour the DIRTY WVO IN and pump the CLEAN WVO OUT to your vehicle or storage container.

The 200 micron drum strainer starts the process by eliminating larger particles. The 55gal drum has a lower sludge drain and upper pump suction to ensure any particles that settle out stay in the drum with enough room between them to add a drum heater in cooler weather. The ½ HP 110 vac pump delivers the WVO to the light industrial filter housing. The light industrial filter provides 2.0 ft² of surface area at up to 55gpm with filter rating of 1 micron absolute to 5 micron nominal. The hose and fuel nozzle make it easy to transfer the clean oil from the drum. All fittings are polypropylene with viton gaskets. Valves feature viton seals, Teflon seats and stainless bolts.

This package includes: 55gal drum w/holes pre-drilled, 200m drum strainer, ½ HP 12gpm pump, pressure gauge, filter housing, A 5 micron nominal polypropylene bag filter, welded steel filter stand, 5' of clear braided hose, 20' of fuel hose, fuel nozzle, gate valves and all necessary fittings. A lid will come with the drum.

If you buy the 1500w heater with the unit there is a discounted price. If purchased at a later date the cost of the heater is $159.99.

Our units are equipped with an "open top" design for drying of the oil. This allows for water and moisture to evaporate during the heating and process time. If the lid is left on the moisture has no where to escape and will fall back into your oil.

Assembly directions will be sent via email.

Filtration Unit is now equipped with gate valves.