Ultimate Aluminum Filtration Unit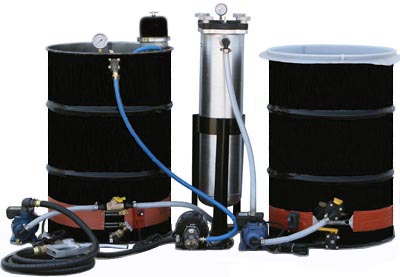 F2F-ULT-AL
This unit comes with the Size 2 Aluminum vessel
The F2F Ultimate Filtration Unit-is for the truly serious WVO Enthusiast that wants one system that will settle, clean and polish the WVO to less than 1 micron. This Centrifuge filters the oil and will take ~30 minutes to complete one pass through the drum.
Start by pouring the dirty WVO into the settling drum through the 200 micron drum strainer which will eliminate the larger particles. Heat the WVO to ~110 degrees using the Brisk 1100w heater for 24 hours. The magnetic surface mount thermometer will ensure the accuracy of the temperature of the oil. The 55gal settling drum has a lower sludge drain and upper pump suction to ensure any particles that settle out stay in the drum. The ½ HP 12gpm transfer pump then delivers the WVO to the light industrial size 2 filter housing which provides a 4.4 ft² of surface area.
Your next step will be to pump the clean oil into the centrifuge tank and heat the oil to ~160 -180ºF with the 1500 watt Brisk heater and let the centrifuge do the rest. There are no parts to replace when the centrifuge is full, merely take it apart, clean it and you are back in business. A magnetic surface mount thermometer gives positive indication of temperature from 0-250 degrees F. The gear pump delivers the WVO to the centrifuge at 90psi for optimum performance. The excess flow is then routed back to the drum to stir the wvo which ensures the oil is as clean as possible.
After you have finished polishing the oil to your satisfaction; use the ½ HP 12gpm transfer pump and 20' hose and nozzle to pump your pristine oil from the drum.
This package includes: Two 55gal drums with welded bung fittings, GSP1 centrifuge, gear pump with hydraulic hosing rated to 400psi, 2 Brisk 1500 watt drum heaters, Size 2 aluminum vessel w/stand, three 5m nominal polyester filter bags, 200m drum strainer, two magnetic surface mount thermometers, liquid filled stainless steel 2.5" pressure gauge, Two of the 12gpm transfer pumps, pressure gauge rated at 100psi, 20' fuel hose and nozzle, 10' of braided hose, one 8' power cord w/switch and all necessary fittings to assemble the system. A lid will come with each drum.
Our units are equipped with an "open top" design for drying of the oil. This allows for water and moisture to evaporate during the heating and centrifuge process time. If the lid is left on the moisture has no where to escape and will fall back into your oil.
Also included are assembly and processing instructions. For detailed information on a particular item, see that items description. The gear pump comes with a wiring junction box mounted on motor ready for your wiring installation.
No need to reinvent the wheel, this is the complete turn key unit that you have been looking for!
Assembly directions will be sent via email.
Filtration Unit is now equipped with gate valves.