SpringPro T76 Drywash System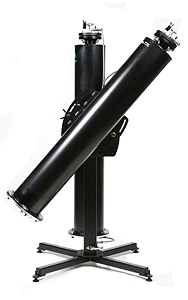 BioPro-T76
Contact us for freight charges to your location
The SpringPro T76 delivers industry leading quality and ease of use. Unlike traditional drywash tower systems, which either rest on the bottom cleanout or are equipped with side cleanouts, the T76 employs patent pending Theta-Lok technology that allows each column to easily tilt 40 degrees. This elevates the bottom of the towers, making it far easier to unload spent resin through the bottom port.
Using a dual tower design with elevated resin support beds, the T76 offers superior resin performance and efficiency by ensuring uniform fluid concentration throughout the entire column length. The T76 is plumbed in a classic lead/lag configuration for optimal fuel purification and longer resin life. The T76 works in conjunction with any biodiesel processor.
It will work with any resin, but we will deliver with BD-Zorb X in the lead column and DW-R10in the lag column – we have tested all the resins and believe this provides the optimal wash
As with all drywash tower systems, in order to ensure ASTM D6751 compliant fuel, the user must remove any trace amounts of methanol that remains after purification through the SpringPro T76.
~Dual Tower System prolongs the life of the Resin and assures maximum performance.
~Like the BioPro, quality construction – industrial grade steel and full powder coating
~Patent Pending Theta-Lok system allows 40 degree tilt, which significantly eases the management of new and spent resins
~Elevated resin bed design assures better percolation through the resins
~This unit is pre-plumbed - huge benefit - in a classic lead/lag design
~Metering pump is a stainless steel, viton sealed, positive displacement unit
~Inlet strainer to keep out large particles and debris
~Power cord with on/off switch and appropriate wiring
BD-Zorb X
The SpringPro T76 has been design to use BD-Zorb X for the lead column, The BD-Zorb X will remove the majority of the contamination before the biodiesel passes through the ion-exchange resin present in the lag column. The lead column will have to have this media replaced every 1500 to 2000 gallons.
DW-R10
The SpringPro T76 uses DW-R10 in the lag column. DW-R10 is an ion exchange resin that "polishes" the biodiesel before it is ready to be stored or burned in your engine. This lag column will need to be replaced after approximately 11,000 gallons of biodiesel have passed through it.
Please allow 4-5 weeks for System to ship.
We offer Free Start Up Support for this product.